http://www.diyweek.net/westland-picks-its-2019-rising-stars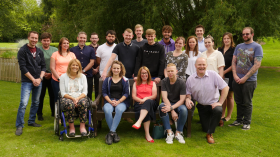 Each year Westland and the Garden Centre Association (GCA) search for the most up-and-coming employees at garden centres who show great potential and would benefit from the opportunity to further their skills and experiences as part of the Rising Stars Program.
This year's star have been announced and they have begun their mentorship with Westland to help them further their skills and expertise, with the first three stages of the programme now complete.
During the first stage of the programme, the 20 candidates met the Westland team for a briefing about Rising Stars and found out more about Westland and the insight the company can offer into the data behind the garden market.
As part of the programme, the Rising Stars have to devise and present a sales campaign based on one of Westland's four key categories (indoors, lawn care, growing and wild bird care), and during the first round candidates had to select their project category.
During round two of the process, Westland showcased information about its marketing strategies within the sector, including point of sale materials, wider content and social media. They also received information about merchandising, driving sales, financial delivery and presentation skills to give them a rounded view of what it takes to bring a product to market. At this stage, the candidates outlined their projects and received initial feedback from the Westland team.
In the third round, each Rising Star gave their presentation, which was also recorded to help develop their presentation delivery skills for the future.
The next stage will see each of the participants speaking with Gordon Emslie from the Garden Centre Association, to receive feedback on their presentations and discover if they are through to the final stage.
Jo Wilkinson, head of communications and Insight at Westland, commented: "This year, to celebrate the 10th year of Rising Stars, we have changed the format. Instead of picking one person to win, we want to champion and support as many people as we can, which is why we will be selecting 10 of the Rising Stars to go through to the final stage to make their presentations at the GCA Conference in January. It's been brilliant working with the candidates so far and to see how passionate they are to learn; we're really looking forward to see how their presentations evolve."
The Westland 2019 Rising Stars have been named as:
Dominic O'Donnell: Ruxley Manor
Gemma Stace:Bents
Arif Khan: Perrywood
Josh Gilbert: Bosworths
Rachel Atkinson-Young: Stewarts Broomhill
Nathan Heywood: Bents
Michael Knight: Haskins Ferndown
Sarah Jane Toop: Haskins West End
Paul Birch: Planters Bretby
Charlie Watts: Squires Twickenham
Stuart Sullivan: Squires Badshot Lea
Bronwen Dains: Thurrock
James Townsend: Garsons Esher
Ben Lodge: Notcutts
Emma Lamb: Barton Grange
Rachel Wilkes: Webbs Wychbold
Jack Appleton: Webbs Wychbold
Naomi Smith: Poundbury
Adam Wallbank: St Peters
William Biehler-Wallis: Baytree